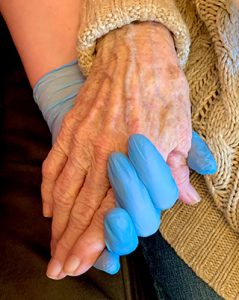 "Dementia" can be an extremely troubling diagnosis, not just for the person diagnosed, but also for those around them. If you're still unsure about dementia or the diseases that cause it, Marjorie House Memory Care Community can help. Knowing the symptoms of dementia, as well as some of its common triggers, can help you and your loved one get the help that they need.
Dementia Education
Dementia is a chronic or persistent degenerative disorder of the mental processes marked by memory disorders, personality changes, and impaired reasoning. It is noted by the loss of intellectual function of sufficient severity that interferes with an individual's daily functioning. It further affects an individual's ability to think, reason, speak, and move, with symptoms that may include changes in mood and behavior. Dementia is not a single disease in itself but a general term to describe the above symptoms. It can be caused by several different brain diseases or severe brain injuries.
Alzheimer's Education
Alzheimer's disease, while the most prevalent cause of dementia, is only one of several irreversible causes; it makes up between 60% and 80% of all cases. It is estimated that over 10% of people aged 65 years or older have Alzheimer's disease. This proportion rises to a third of people once they reach the age of 85.
Vascular dementia is the second most common type of dementia. It is caused by a loss of blood flow to the brain during a stroke. Like Alzheimer's, it is irreversible; however, treating the underlying causes of stroke can slow its progression.
Recognizing Early Signs
Usually, dementia gets worse over time, but how long this takes will vary. While some people will stay the same for years, others will lose cognitive ability and skills quickly. While this is a very difficult, frustrating, and painful time for the individual suffering with dementia, it is equally difficult for family and loved ones. It is estimated that 4 out of 5 families caring for a relative with dementia will fall apart by the time it is over.
Our staff is educated and trained specifically to care for the unique challenges brought on by dementia diagnosis. We are taught to have the self-awareness to see things from the resident's perspective. After all, we are the people in this partnership that have that ability.
Family Role
At Marjorie House Memory Care Community, we believe in family participation and encourage family members to take part in their loved one's care. Because we are aware of the difficulties, uncertainties, and fears families face with being involved, we offer support groups and dementia education seminars in an effort to alleviate those fears, allowing family members to be confident and comfortable with being involved.
The staff at Marjorie House Memory Care Community is well equipped to work with individuals suffering with dementia. We provide a safe environment, extensive medical and personal services, and a full calendar of activities to allow residents with dementia to have the quality of life they deserve. Contact us for more information.