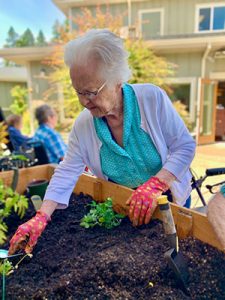 Marjorie House Memory Care Community is a facility that is dedicated to providing exceptional quality care for residents living with a diagnosis of dementia including Alzheimer's disease. Because of our singular focus, we have a keen understanding of the challenges and difficulties faced by those dealing with memory loss, and we endeavor to create a caring, supportive environment in which our residents can maintain their dignity, purpose, and a high quality of life.
The Comforts Of Home
Our new, state-of-the-art facility is pleasantly situated in the heart of some of the most beautiful wine country in the world, and it has everything necessary to keep your loved one comfortable and thriving. Our residents enjoy pleasant, spacious private rooms with an adjoining, private half bathroom. The comfortable, welcoming communal living areas are designed to create an inviting atmosphere for residents and their families to visit. The spaces promote resident socializing and provide a place for quiet time, whether it be around the fireplace or while watching a movie.
Your loved one can take part in family style dining, which fosters a shared sense of community with other residents, and we also have private dining rooms available for families to hold celebrations or private dinners with their loved one. And our in-house beauty salon and spa helps to keep our residents feeling pampered.
Enrichment Activities
At Marjorie House Memory Care Community, our residents take part in a variety of both structured and unstructured activities based on their individual interests and abilities to help them retain fitness and physical function, cognitive abilities, and social enrichment. A resident social history will be created by the Life Enrichment Coordinator with the assistance of the resident and their family members upon move-in. The critical social profile gives our staff an understanding of what kind of activities the resident might enjoy and introduces staff to the resident on a very personal level. Our Life Enrichment Coordinator can individualize activities based upon the personalized preferences of your loved one that will keep them engaged, stimulated, and continuing to live a life that has purpose and meaning.
At Marjorie House Memory Care Community, we focus on resident-centered care, not on profits, and that is evident in the compassionate attention and concern that we give to each of our residents. We create an environment in which your loved one can feel at home, and we will work closely with your family to ensure that each resident receives the nurturing, dignified and dedicated care they deserve. Give us a call today to learn more about how we can be of service to your family.